This game was primarily played so I could see whether I had enough dakka to cope with horde armies. I specifically asked to meet this hordy nids list seeing as the changes I had made mostly made changes that took away volume of shots. Anyway, I want to be sure how I want my lists to look before I expand to 1500 points and I think I'm getting rather close. A couple more games against shooty lists (IG/Marines preferred) and I think I'll be good to go!

This is my first game (in 5th ed) at a 6' x 4' table by the way - I really enjoyed the extra space!
.::. Battle Report Tau vs Tyranids: "For the Greater Good!" .::.
[hr]
Army Lists
Tau
Shas'o – Cyclic Ion Blaster, Plasma Rifle, Missile Pod. Hard-wired Multi-tracker
Shas'vre – Twin-linked Missile Pod, Airbursting Fragmentation Projector, Hard-wired Multi-tracker
Shas'ui – Twin-linked Flamers, Missile Pod
10 Kroot
10 Kroot
6 Firewarriors in
Warfish – Smart Missile System, Targeting Array, Disruption Pod and Multi-tracker
Railhead – Burst Cannons, Disruption Pod and Multi-tracker
Railhead – Burst Cannons, Disruption Pod and Multi-tracker
Broadside - Team Leader, Advanced Stabilization System, Hard-wired Drone Controller with 1 Shield Drone
Tyranids
1 Flying Hive Tyrant with melee nastyness
14 Termagaunts
14 Termagaunts
11 Hormagaunts
6 Genestealers
6 Genestealers
2 Zoanthropes
1 meleefex
1 shootyfex
Preparations
We rolled for mission, getting "Seize Ground". Deployment was "Table Quarters". I won the roll for deployment, choosing the south-east corner due to the lack of cover in the north-west corner for him and opted to go first. He tried to seize initiative but failed.
Units held in reserve
Tau: One unit of Kroot (after I forgot to infiltrate them)
Tyranids: The flying Hive Tyrant
Objectives:
Three Objectives were placed, and I won the roll for placement, placing 2 in fairly open places. He placed his in a fairly open place as well. I was pretty happy with the layout and objectives. The battlefield looked like this: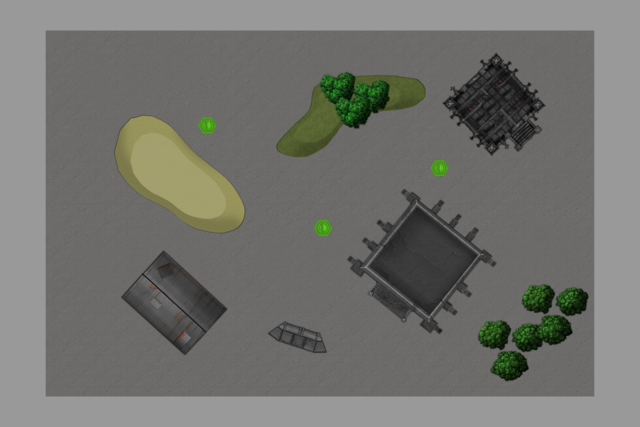 Deployment: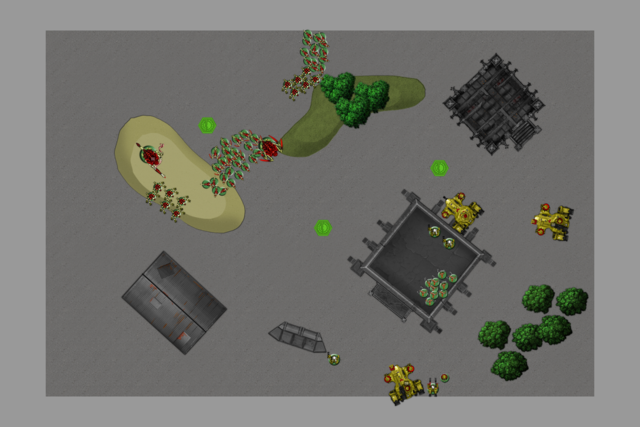 Turn 1
[hr]
Tau
I moved my right Hammerhead onto the building in the north-east corner. It had 2 floors which granted me a supreme overview over the entire map - perfect to lay down pieplates at his advancing gaunts. The rest of my force didn't move too much, the Kroot took up marginally better positions from which to shoot next turn while the crisis suits inched forwards to good firing positions, ready to lay down some missiles. My flamer suit which was originally placed to threaten a south-flanking approach suddenly seemed to be needed closer to the objectives so I moved it towards the central building.
In the shooting phase my AFP was just out of range of landing its blast on the carnifex with plenty of gaunts on both sides (it was less than an inch away!). The other two pieplates both scattered but due the densely packed nids still managed to kill a total of 9 gaunts. The commander and flamersuit opened up with missile pods on the stealers next to his shootyfex, downing 2 of their number. The broadside put a wound on the shootyfex since it lacked a better target.
Tyranids
Everything moved forward with mediocre runs across the board. His shootyfex landed a template on my Kroot - with a 'hit' on the scatter die I had 5 cover saves to take... I said "ok I'm going to roll them one at a time to see if I can copy the effect from my Hammerhead's cover saves last game against the Orks (in which 8/8 cover saves were passed!)". To my amazement, every single save was passed. I was told jokingly that rolling one die at a time was from now on forbidden. His Zoanthrope targeted the 'fish, being in range of a powerful blast. He passed his test, hit the fish.... and proceeded to roll a 1 for penetration. Phew!
Turn 2
[hr]
Tau
His meleefex had gotten across the terrain and was now in the open for me to target. The suits all moved to good firing positions, passing all their dangerous terrain tests. The Commander moved west to target the meleefex as did the Hammerhead.
My Commander, broadside and the Hammerhead in the building put 3 wounds on the meleefex, which left my other Hammerhead free to pieplate some more, with only 2 wounds left I was confident I could bring the fex down next turn. The tank and the Kroot killed another handful of Gaunts on the left flank.
Tyranids
His Tyrant arrived! He opted to land it close to my Broadside, behind the wall. It didn't scatter but I wasn't too worried with its position - it was far away from my main lines and the objectives and with its mediocre save I was confident it wouldn't be too much of a troublemaker, although my Broadside would surely bite the dust. The rest of his nids moved forwards, readying an assault next turn. His Zoanthropes both failed to do anything, one missing and the other failing to wound my Crisis suit with the AFP.
Turn 3
[hr]
Tau
The game was now proving to be quite action-packed! My Kroot arrived, rolling for outflank they came in on his side and I tried to move them into the cover of the hill. A poor run roll saw them standing 2" short of the hill, failing to get to cover from the shootyfex. My commander moved within rapidfire range of the meleefex while the other suits took up position to blast the gaunts on my right flank. I figured I could deal with the Hormagaunts and Tyrant later. The left Hammerhead moved away, placing itself on top of the building next to the Kroot who took up positions to rapidfire the oncoming Termagaunts and receive a Hormagaunt-assault next turn.
My commander killed off the Carnifex on his own, which was a major relief as the rest could now target the squishier units. In between the Kroot, a Hammerhead, the Devilfish and 2 XV8's, the remaining stealers and all but 2 gaunts died, which pretty much left that flank safe. The left Hammerhead blasted away at the advancing Hormagaunts, killing them down to 5 left and downing a couple of Termagaunts in the process, leaving only 4 alive.
The Broadside knows he's dead so he promptly puts a wound on the Tyrant for The Greater Good.
Tyranids
His 4 remaining Termagaunts decide to camp at the middle objective, getting cover from most of my lines. The Hormagaunts assault the Kroot and the Genestealers on the left fail to reach the Broadside, rolling a miserable '1' for their run. This means the Tyrant has to kill him off - delaying him from reaching my main line!
The 5 Hormagaunts manage to hit with an amazing 5/15 attacks! 2 Kroot die and the rest proceed to wipe the gaunts out! The Broadside dies in assault vs the Tyrant but it has done its job.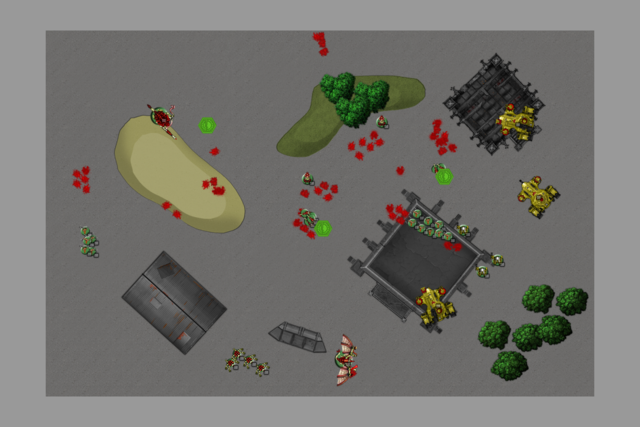 Turn 4
[hr]
Tau
My Commander moves within rapidfire range of his Tyrant. The Kroot move to assault the nearest Zoanthrope.
In the shooting phase my commander puts 2 wounds on the Tyrant, allowing my Hammerhead to finish it off. This leaves the other Hammerhead free to target a Zoanthrope which it wounds. The flamer-suit takes out the last 2 gaunts and the AFP-suit fails to hurt the other, as does my Devilfish.
In assault the Kroot fail to do anything and lose 1 in return, promptly failing their leadership test AND rolling a poor '2' for initiative test which means the Zoanthrope kills them easily with a roll of a '3'. Sigh, I guess I asked too much from them after they had survived a shootyfex-blast, killed off some Termagaunts AND beat the Hormagaunts back to the Hive from which they came.
Tyranids
Again his shooting fails to do anything so he decides to assault my flamer-suit with the 1 wound Zoanthrope! The Genestealers move toward the middle objective.
At this point the store we're playing at announces we have to leave soon (since they're closed already, we're lucky not to be thrown out instantly) so the game has to end after turn 5.
My Crisis fails to wound his Zoanthrope in melee, but worse, he passes his armour save having taken a wound from the Zoanthrope! This means I will not get to kill it off and claim the eastern objective with my Fire Warriors!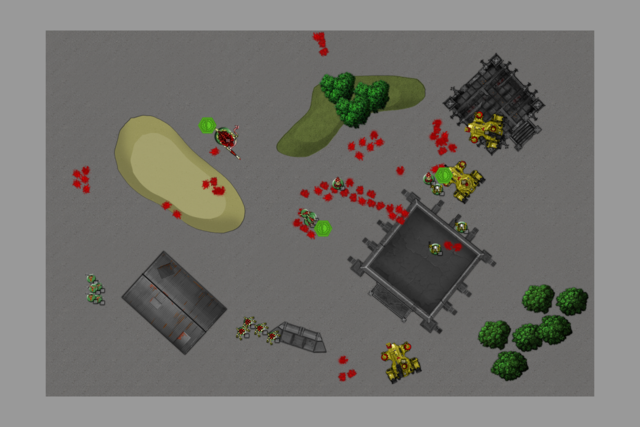 Turn 5
[hr]
Tau
The Devilfish moves 12" towards the middle objective where his Termagaunts have been the last couple of turns. I disembark my Fire Warriors as close as I can, hoping to be within 3" of it. The rest of my force target his remaining 4 gaunts and 4 stealers and properly kills them all.
Tyranids
Since he can't win and the game has to end, he simply moves the shootyfex up towards the objective and with a proper run roll of '2' he is close enough to contest it.
The game end and it's a tie with him having 3 models left on the table, 2 of which are already wounded.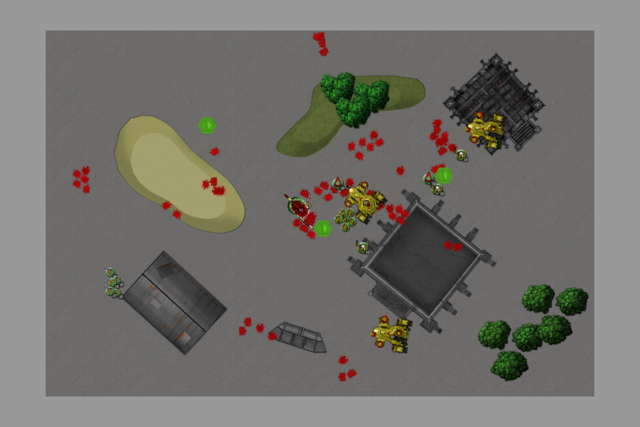 [hr]
Thoughts:
For once the Commander seemed to be worth it, although it was mostly the CIB/plasma combo that was deadly. Missile Pods are still amazingly nice though, they have such a high range and with his BS you're guaranteed to get some hits. I originally thought about dropping him to an 'el and maybe invest the spare points in something else due to the lack of the Missile Pod but now I'm not so sure - he's expensive but versatile!
Turn 3 was a turning point, by the end of Turn 2 it looked like I wouldn't be able to hold him all off, however during Turn 3 my units really did their thing above and beyond the call of duty and took out a huge portion of his army. Granted, the setting was perfect but still downing so much of his force in but a shooting phase just felt great!
Kroot continue to impress me, I'm sort of annoyed I forgot to infiltrate the second unit. I would've put them in the building where my Hammerhead sat most of the game, as it turned out they proved to be fairly useless.
The Broadside's Shield drone hasn't really been worth it in any games, yet. That being said, I haven't played particularly nasty, shooty lists. It might be worth it against armies like IG/shooty marines.
I think my list performed pretty well, the Kroot actually do provide a fair degree of dakka and can even be counted upon (to a certain extent) to actually do something in melee!
~Olannon