Inquisition versus Black Templars – 1750 points
Introduction
We have started our campaign in Planetary Empires – The Kidinnu Heresy - and this is our largest campaign battle so far. The Black Templars, true to their mistrust regarding the inquisition, have launched an assault to drive the inquisitorial forces under Matteus Dharl off the planet Kidinnu IV. Dharl has fought Khorne and Nurgle cults already during his investigation, and was taken by surprise by the Black Templars hostility. In spite of being caught off guard, Dharl rallied his forces and prepared to counter the Black Templars. Due to the Black Templars advantage in Manufactorums he got 150 points to play around with, and he employed the help of 150 points of Howling Banshees. However, he didn't make his roll for a universal special rule. I guess that's always something.These were the lists for this battle:
Black Templars:

HQ
Marshal with twin lightning claws
Emperors champion with the vow that gives the army preferred enemy
Troops
Crusader squad 1 (5 initiates, 5 neophytes) with flamer and power fist – in drop pod
Crusader squad 2 (5 initiates, 5 neophytes) with flamer and power fist – in drop pod
Crusader squad 3 - 5 Initiates with flamer and power fist in Razorback with TL Lascannon
(Emperors Champion attached)
Crusader squad 4 - 5 Initiates with flamer and power fist in Razorback with TL Lascannon
(Marshal attached)
Elites
8 Howling Banshees
Heavy Support
Vindicator with smoke
Vindicator with smoke
Vindicator with smoke
Fast attack
10 Assault Marines with flamer, plasma pistol and power fist
2 Attack Bikes with multi melta
Inquisition:

HQ
Canoness with eviscerator, brazier of holy fire, book of st lucius
Dharl's Daemon Construct (Inquisitor Lord Karamazov)

Troops
Sister Squad 1 – Hflamer, flamer, brazier
Sister Squad 2 – Hflamer, flamer, brazier
Platoon 1
HQ1 with Autocannon
Squad 1 with Lascannon
Squad 2 with Lascannon
Platoon 2
HQ2 with 4 melta and Chimera with multilaser and Hflamer
Squad 3 with PW, melta, meltabomb in Chimera as above
Squad 4 with PW, melta, meltabomb in Chimera as above
Elites
DH Inquisitor Dharl with 2 mystics and targeter
Calidus Assassin
Heavy Support
Exorcist
Leman Russ with Hflamer and plasma cannon sponsons
Fast Attack
6 Rough Riders
Scout Sentinel with Lascannon and HK-missile
We rollled for missions, and were to play with 5 objectives scattered across the field. Black Templars won the roll-off, and elected to chose sides and go first. A bit to my surprise, since it is usually an advantage going second when playing for objectives, and especially so when there are so many of them, but it is certainly in character. We rolled for deployment and got Dawn Of War. Black Templars chose to roll on with everything turn 1, and thus didn't deploy anything. Assault Marines and the two Crusader squads in drop pods were put in reserves and were to deep strike.
I put my Sentinel and of course the Callidus in reserves. The rest of my forces were to enter play during my turn 1. I didn't intend to try to steal the initiative.
Deployment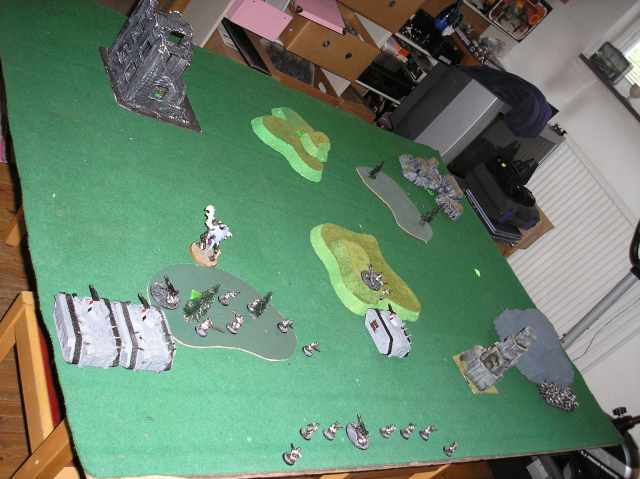 I deployed both platoons, and put the daemon construct forward in an aggressive manner on my left flank. My plan was to assault on the left, and just wait and see on my right. I put the large infantry squad on my right flank behind a large mountain and my heavy weapon squads in the forest close to an objective on my left side. Two Chimeras were placed in waiting for the Sister squads on my left flank, and HQ2 in their Chimera were deployed behind HQ1 on the hill in the middle to be able to move to the left and charge next to the other Chimeras and the daemon construct. I felt I had a good chance to assault and take the objective in the ruins on his side on my left, and if I got it, I could hunker down and hold it. At least he wouldn't get to dig in there. If he moved anything in there I planned to flame him out with my sisters and charge the remnants with the daemon construct. The heavy weapon squads were to support the assault, and my Leman Russ and Exorcist could then move in and fire on his other units. Hopefully he wouldn't get to blast me appart with his big S10 AP2 pie plates. I deployed far enough back so that he wouldn't get a chance to on turn 1 at least. No enemy units were on the table, so the Callidus didn't get to redeploy anything. Boooring... Now I just had to see were he chose to roll onto the table. We are off!
Black Templars – Turn 1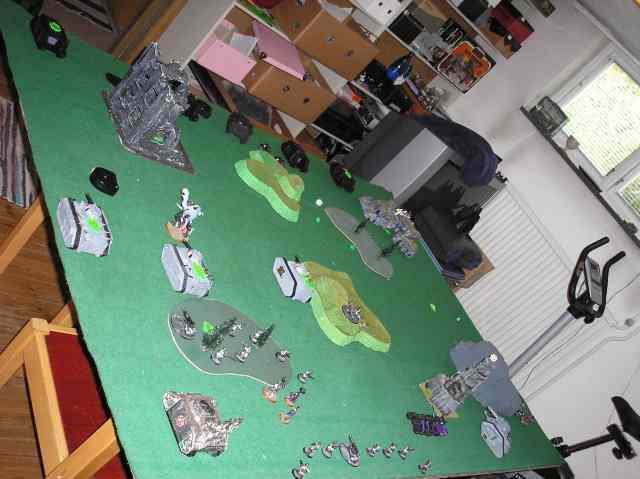 Unfortunately this picture is after both BT and Inq turn 1, but not much happened in his turn 1. He rolls onto the table. From my left side: Vindicator 1 left of the ruins and Vindicator 2 to the right of them. Behind the green mountain in the middle of his deployment he takes in Razorback 1 and Vindicator 3, and behind the forest and rocks on the right Razorback 2 rolls in. The Banshees are on the far right and run forward.
Razorback 1 fires on the Daemon Construct with its Lascannon and wounds it.
Inquisition – Turn 1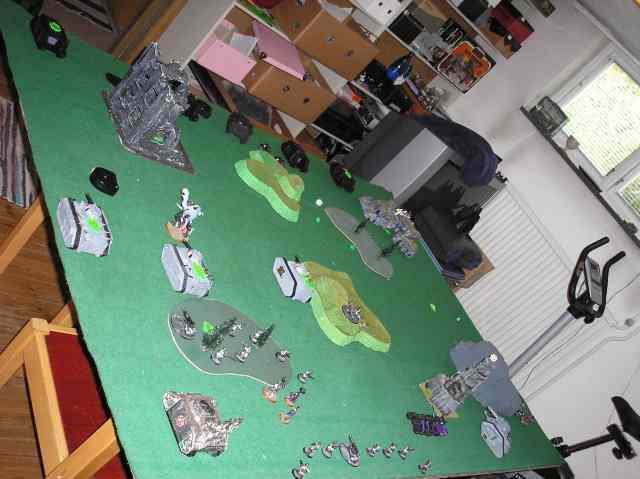 Since the BT-forces are spread out over his deployment zone I go ahead and follow my initial plan. I launch a full out assault on my left flank. My SoB-squads board the Chimeras that were waiting and then they gun it forward 12" toward the ruins on the BT-side of the table. The Chimera with HQ2 joins them on the left side of the middle mountain. The Daemon Construct moves ahead in front of them, chancing to reach the ruins with a good run move later. I move my Canoness in on the right flank and join her to the large infantry squad.. They then run forward on the right side of the grey mountain. Leman Russ comes in somewhat on my right side, but still close enough to the middle to be able to move in and support my home base. The Exorcist moves in on my left flank along with the Inquisitor and the two mystics. Just let him drop pod in here if he dares...
The Exorcist fires 2 missiles on the left Vindicator 1 and stuns it. At least it will be out for next turn. HQ1 with autocannon on the middle mountain fires on Razorback 2 on the right flank and destroys its TL Lascannon. The Leman Russ misses Razorback 2 with its battle cannon. My two lascannon squads fail to do anything against Vindicator 2. Rough Riders run 1" and the Inquisitor runs 5" in behind the forest. Not much has happened so far, but from next turn we'll see if some reserves come in.
Black Templars – Turn 2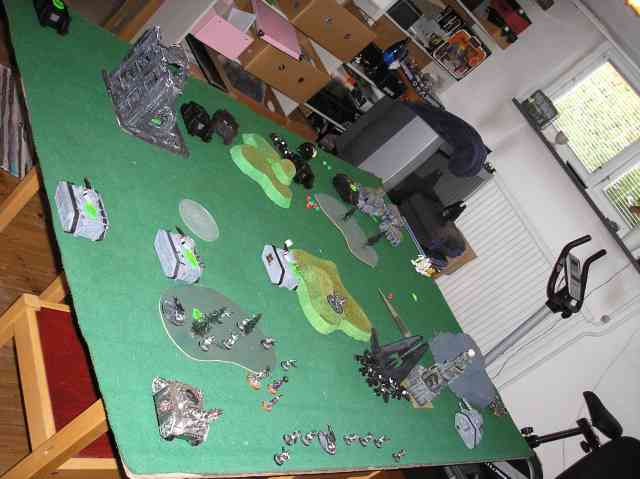 Black Templars roll for reserves and Drop Pod 1 arrives this turn. He places it close to my Rough Riders and lands spot on. Crusader squad 1 disembarks and position to flame and shoot the Rough Riders. Vindicator 2 and 3 move to be able to shoot, Razorback 2 moves in on the objective among the rocks on my right flank and Razorback 1 follows Vindicator 2 on the left side of the middle mountain in his deployment zone. The Howling Banshees move up on my right flank and run toward the objective out in the open. The two attack bikes hide behind the middle mountain in his deployment zone.
Vindicator 3 shoots at HQ1 on the mountain, hits dead on but only kills 2 due to cover saves. They make their morale test. Razorback 1 shoots at the Exorcist but misses. Vindicator 2 shoots at the Daemon Construct, hits it and wounds. I just remember that he is not an Eternal Warrior, so if he fails the 4+ invulnerable save he is instakilled due to his toughness being only 5...and of course he promptly fails the save! 205 points down the drain, thank you very much. Crusader Squad 1 flames and rapid fire at the Rough Riders and wipe the squad a couple of times over. Quite a good turn of shooting for the Black Templars. Hopefully I can return the favour next turn.
Inquisition – Turn 2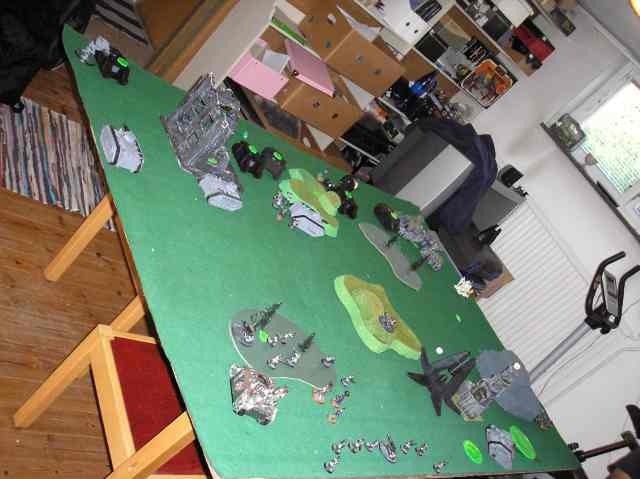 Well, despite the heavy loss of the Daemon Construct I decide it is too late to turn back now. I press on with my attack on the left flank. I roll for reserves and get both my Sentinel and Callidus this turn. I deploy the Callidus behind his attack bikes. They can cause a lot of troubler later, so I want to make sure I take them out early. The Sentinel outflanked and comes in on my left flank close to Vindicator 1. My large infantry squad with Canoness stand still to fire on the oncoming Banshees. The Leman Russ move to the left to be able to fire on Crusader Squad 1 which stands in a prefect formation for blast templates. The Exorcist moves slightly to get a better angle. All three Chimeras move full out. One on the far left flank, one straight for the ruins and the one with HQ2 moves toward Razorback 1 and Vindicator 2 and disembark HQ2 with their 4 meltas.
The Leman Russ opens up with battlecannon, 2 plasma cannon sponsons and a heavy flamer and totally annihilates Crusader Squad 1 to a man. The Callidus flame the attack bikes with the neural shredder and cause 1 wound and at the same time manages to shake Vindicator 3. The Sentinel fires its lascannon and hunter killer missile on Vindicator 1 but only manages to shake it. HQ2 fire 4 meltas on Vindicator 2, but only manage to stun it. The Exorcist fires 3 missiles at Razorback 1 and immobilises it. The large infantry squad fires at the Banshees but only manage to kill 1.
The callidus charge the attack bikes and cause 1 more wound, taking one of them out. The Sentinel charges Vindicator 1 but fail to to anything more. Not exactly even, but a fair showing since I managed to knock out Crusader Squad 1.
Black Templars – Turn 3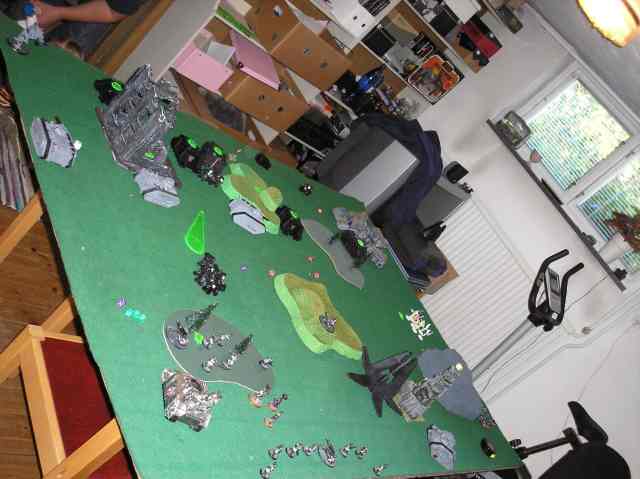 Black Templars roll for reserves again and get the Assault Marines, but not the second Drop Pod with Crusader Squad 2. The Assault Marines land just in front of the forest where my lascannon squad 1 stands but scatter bakward a bit. The Banshees move to take the objective in front of the grey mountain. Vindicator 3 moves forward but is shaken this turn. Vindicator 1 retreats behind the ruins and is also shaken this turn. Vindicator 2 is stunned. The 5-man Crusader Squad with attached Emperors Champion exits Razorback 1 and forms up to flame HQ2.
Assault Marines flame and shoot bolt pistols at lascannon squad 1 but only manage to kill 1. Emperor Champions squad flame and shoot at HQ2 and wipe them. Howling Banshees run closer to the objective.
The Assasin manages to wipe the attack bikes in close combat and consolidate 2".
Inquisition – Turn 3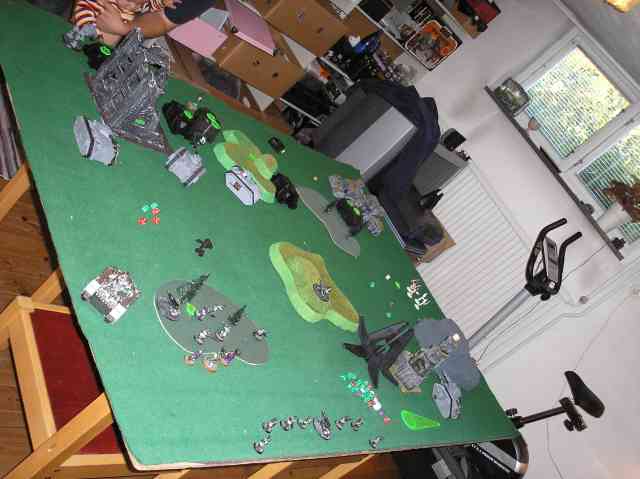 I have still been unable to get an upper hand on my left flank, but decide to continue to press his forces there. I move the Exorcist up to fire on the Assault Marines.The Chimera with SoB Squad 2 moves toward the Emperors Champion Squad. The now empty Chimera fron HQ2 also moves in. SoB Squad 1 stands still to allow the squad inside to fire at the Assault Marines. Leman Russ moves to the right to be able to fire at Vindicator 3 or Razorback 2. The large infantry squad moves to fire at the Howling Banshees, and the Sentinel chases after Vindicator 1.
The Exorcist fire 5 missiles, SoB squad 1 fires 5 bolters, lascannon squads 1 and 2 fire with all they have and SoB squad 1's Chimera also fires at the Assault Marines and kill all except the one with the power fist. The pass their morale test. The two Chimeras by Emperor Champion squad fire heavy flamers and kill 4 of the 5 in the squad. Leman Russ fires at Razorback 2 and immobilizes it. The assassin flame both Razorback 1 and Vindicator 2 and stuns them both. The Sentinel misses Vindicator 1 and fails to do anything on the charge. The large infantry squad fires at the Banshees and kill 3. They are 4 left.
continues...