Second game of 'Ard Boyz. After being stomped on hard by a 'nid player, I was down to table 9 out of 10. Not good, but what could I expect after getting shut out of my first game? My opponent turned out to be Eric, an IG player whose army had caused some consternation and fear among the other competitors when he set it out before the tournament.
Command Squad:
"Iron Hand" Straken, 4 meltaguns, officer of the fleet
Chimera with twin HB and pintle stubber
Veteran Squad
Sergeant with power fist, 3 meltaguns, 6 shotguns
Chimera with twin HB and pintle stubber
Veteran Squad
Sergeant with laspistol and close combat weapon, lascannon
Chimera with twin HB and pintle stubber
Veteran Squad
Sergeant with laspistol and close combat weapon, lascannon
Chimera with twin HB and pintle stubber
Veteran Squad
Sergeant with power fist, 3 meltaguns, 6 shotguns
Vendetta
3x Leman Russ Battle Tanks
Hull lascannons, dozer blades
3x Leman Russ Demolishers
Hull lascannons, sponson plasma cannons, dozer blades
1x Leman Russ Executioner
Hull heavy bolter, sponson plasma cannons
Lot of template lovin'! The mission helped me though. It was an seize ground mission played with six objectives, 3 of which were determined randomly to be the "real objectives" on turns 2, 4, and 6 respectively. Oh yes, it was also dawn of war with night fight for the entire game. :-D

Klickinklak hobbled uneasily over the broken terrain near the abandoned imperial bastion. He cursed as he tripped over a blackened skeleton and paused to crush it into bonemeal before he moved on. Grubbynutz had been sure that the Imperials would put their defense line here and he had insisted that Klickinklak go at night. Normally, finding no enemies was a good thing for a Mek of Klickinklak's stature (and sense of self-preservation) but today he had been tasked with leading a bunch of the boyz to raid the 'umies. And when the boyz got restless, they started breaking equipment. Equipment that Klickinklak had to fix.

So it was that when he heard the rumble of huge engines and the grinding of tracks, Klickinklak was overjoyed. Hastily he rummaged around his pockets until he found the flare. Rummaging some more, he grabbed a parachute-equipped snotling from another pocket and jammed both flare and snotling into his slugga and fired straight back. Grubbynutz would be pleased.
*****
Captain Elbert Hasenwurst stared through the vision-slit on his Executioner's turret, grinning a grin that would have given an ork pause as he took a drag of his lho stick. And his CO had thought he was crazy for abandoning the bastion. He sneered. A bastion was a footsloggers tool. A place for the cowards who came in to hold the territory that the glorious tank regiments had taken. For him it was only bait for the orks that were already showing up on his auspex. If only one of the moons was out tonight...

"Do we have a report on the enemy strength?" he growled over the vox. Lieutenant Von Karben, a demolisher commander, was the first to respond. No doubt the lad had popped his head out to get a view with his night vision 'noculars.

"I estimate their strength at reinforced platoon level." came Von Karben's drawling response. Hasenwurst barked the short choking sound that had passed for his laugh ever since his wound on Armageddon. Three score orks? His tank company would smash them and be back at base for breakfast. He took another drag on his lho stick and exhaled slowly.

"Take them."
Board looked a little bit like this:
He won roll for choosing deployment and first turn, but he ceded it to me. I plopped down my standard DOW deployment of 60 boyz and Klicky on the center line. I decide to outflank the baron. He deploys nothing. He declares that his Company Command to be in reserve and Vendetta outflanking. He fails to seize the iniative.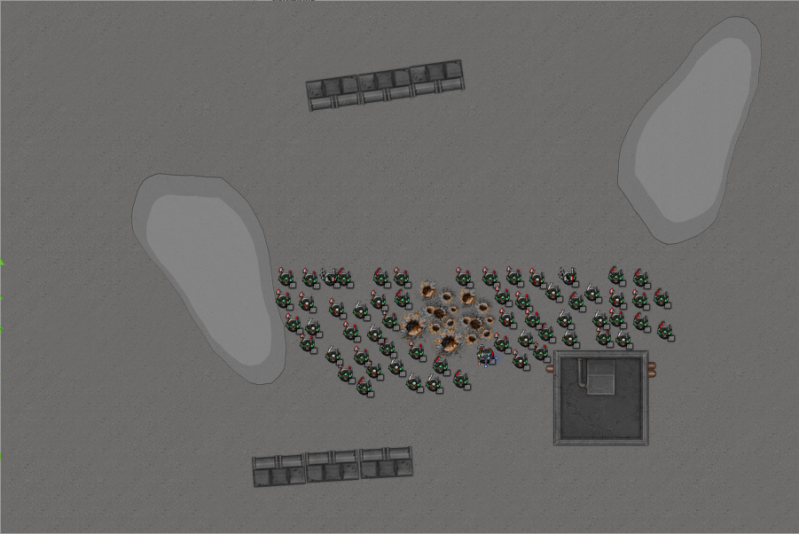 Ork Turn 1:
My army roars on. Not a whole lot to talk about. My forward squads run forward while staying central. I want to threaten his battle line within a turn of him coming on if possible. It's tough setting up, because you're trying to react to a deployment that hasn't happened yet. Regardless I try. Mek stays with the right but keeps left squad within range.

IG Turn 1:
He rolls on. He keeps his chimeras farthest to the left with his demolishers next, his executioner in the middle and his battle tanks taking position behind the barricades. His leftmost chimera lights up my lefthand boy squad and his entire army opens up on it. Thanks to the Mek's KFF and some good spacing on my part, a wounded nob and a single boy survive. They pass their leadership test.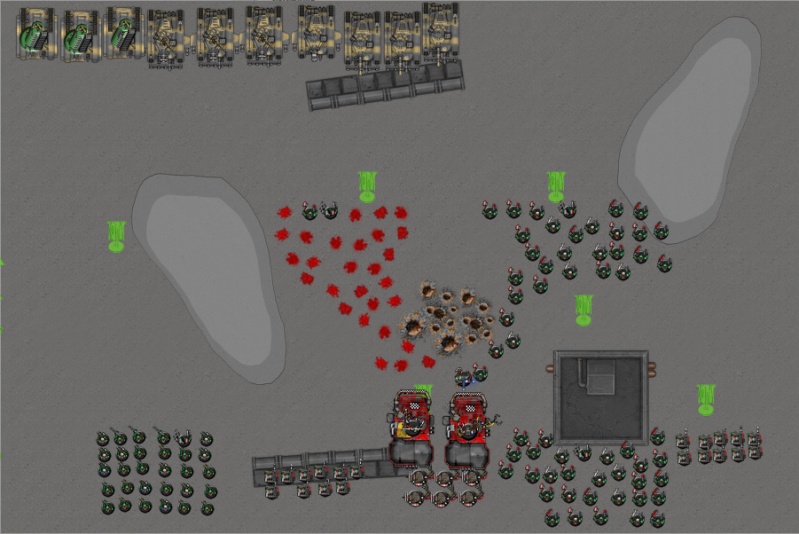 Ork Turn 2:
Objective one is revealed to be right in front of the bastion. Easily controllable by me. The baron is delayed by the officer of the fleet... but that's okay because I'm about to....
WAAAAAGGGGGHHHHHHH!!!!!!!!!!! My two remaining orks on the left surge forward towards the demolishers. The right hand squad heads for the battle tanks and the rest of the army races to join them. My waagh moves nets me enough to charge the demolishers and battle tanks. The battle tanks are competely destroyed and the demolishers lose one tank while the others are shaken. This is key since now the rest of my army can close unmolested. It's also why I don't like shooty tanks that lack some defense against stunned and shaken results. All you have to do to negate their usefulness is get a single lousy glancing hit (as my nob did against two of his demolishers).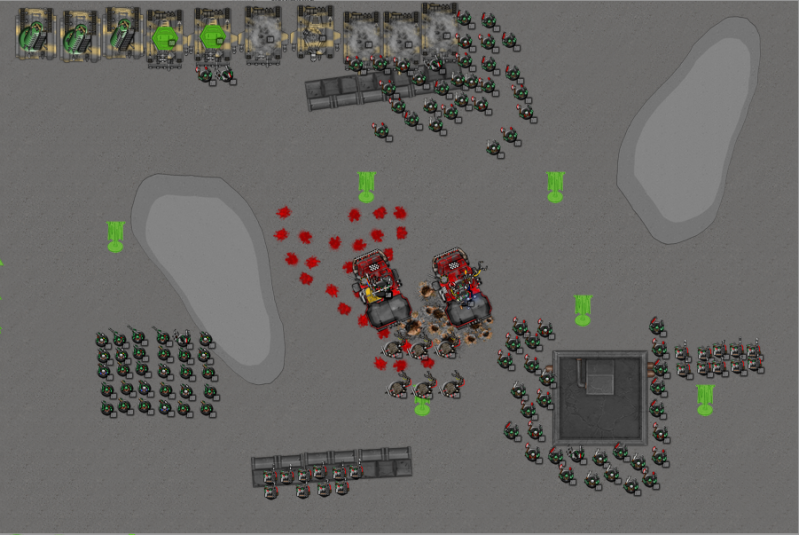 IG Turn 2:
His reserves fail to show.
His demolishers move up and tank shock my remaining two slugga boyz. They fail their test and their bosspole reroll (which kills off the last slugga boy) so the nob heads for the hills. His executioner moves up onto the ruins of the battle tanks and blasts away a bunch of sluggaz. Clever. Now I have to charge him in dangerous terrain. His chimeras hold fast and pepper my shootaz (which he can see with a lucky searchlight roll from his first chimera). With that, his turn is over.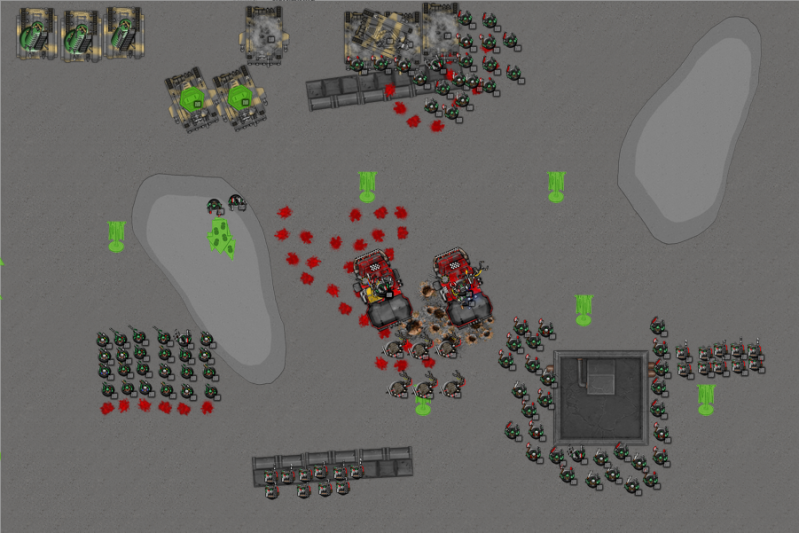 Ork Turn 3:
The Baron again fails to show. Again, because of the Fleet Officer.
I send my righthand slugga boyz to claim the objective that was revealed last turn. The shoota mob moves up a bit more. I try to keep the hill shielding them from the Chimera line. Grubbynutz and company rush forward and dump out in front of the demolishers. They beat the demolishers until they explode. The slugga boyz, undeterred, run into the burning wrecks of the Leman Russes to immobilize and weapon-destroy the executioner.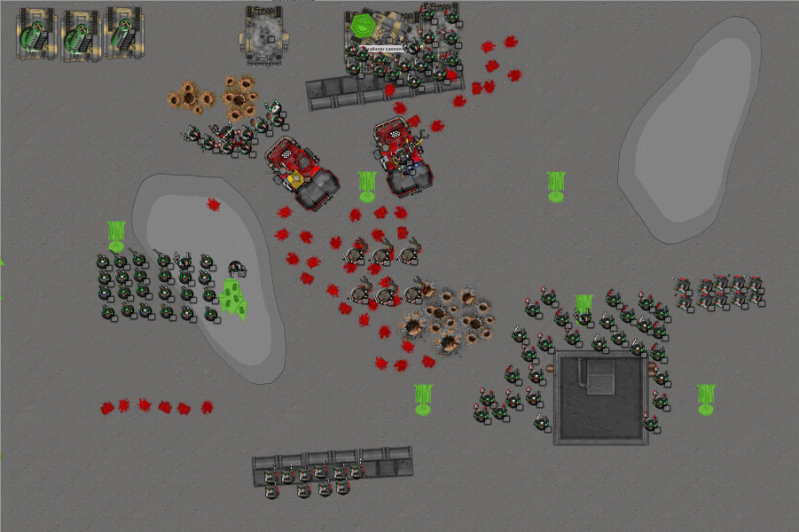 IG Turn 3:
His reserves AGAIN fail to show. Maybe he should have taken an astropath instead.
He disembarks one of the veteran squads and moves them up towards grubbynutz and company. The entire chimera battery, the veteran squads within and the squad that had disembarked, all fire on the nobz squad. They kill two nobz and put various wounds on the big orks. The executioner wastes a bunch more sluggaz with its active plasma cannons and heavy bolter. The veterans then charge in against the nobz. All of them that can attack grubbynutz and the sergeant manages to kill him with his fist. The nobz have the last laugh however and massacre the veterans and consolidate towards the stationary chimeras. In the tank graveyard in the center of his line, the executioner again lives through a round of nob klaw attacks.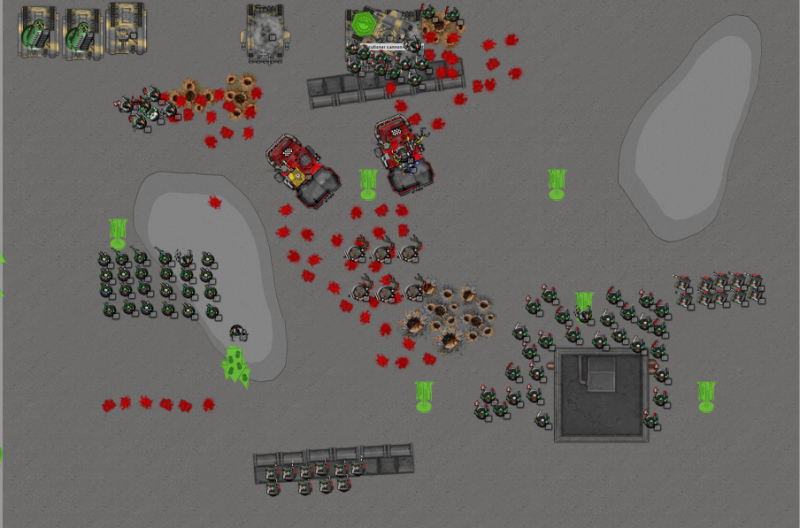 Ork Turn 4:
The Baron finally arrives, but is forced onto the wrong side of the board by that damn fleet officer. He turboboosts, so as not to give up a kill point to the IG reserves (who are imminent at this point).
The second objective is revealed to be the one near the shoota boyz on the IG side of the board. The shoota boyz move up and claim the hell out of it. The sluggaz move to surround the objective revealed in turn 2. The nobz move up and beat the chimeras to death, exploding all three. The two remaining veteran squads pile out, unpinned but having lost several members from each squad. The executioner is blown up by repeated strikes by the slugga nob. Hurray! Turn 4 and no tanks left on the IG side of the board.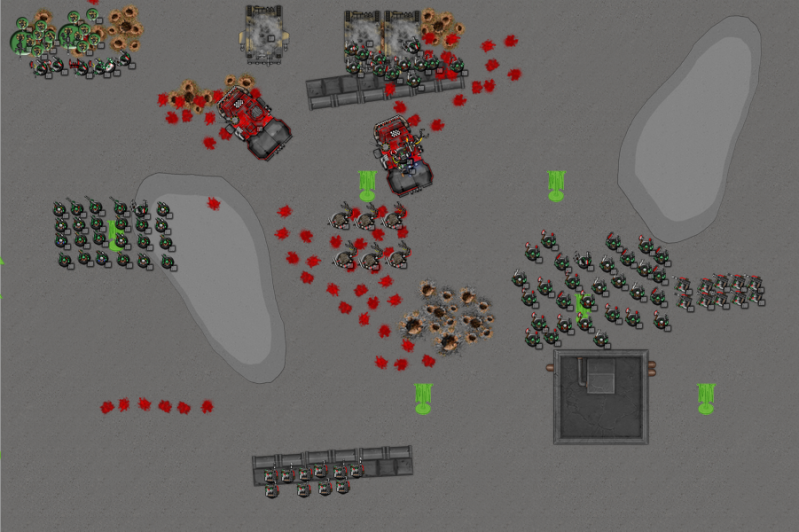 IG Turn 4:
He gets his Vendetta and Veterans, but Straken fails to show. At this point, he concedes.
The roar of the Vendetta drowned out the screaming and braying of the Goffik horde spread out on the plain below. Holding his helmet on his head and looking out from the empty gun port, Sergeant Weiss was happy for that at least. Still, what his eyes told him was even worse. The burning wrecks of the tank squadrons below told him everything he needed to know. As the slugga and shoota fire began to bounce off the vendetta armor, Weiss made a choice that undoubtedly saved the lives of his men. He gave the order to withdraw.
********

Klickinklak was as close to Mek heaven as possible. No less than 5 leman russ hulks were waiting for him. As the lootaz joined him, he offered up a silent prayer of thanks to Mork. Silent only because Mork was not well respected by the celebrating hordes of Goffik slugga boyz all around him. Turning, he faced the battered Grubbynutz, whose helmet horns had been smashed to pieces when the 'umie sergeant had knocked him out. Unlike the rest of the horde, Grubbynutz had no eyes for the burning wrecks. Instead, his beady red eyes were facing east, towards the coastline and the 4th continent

"Da way to day 'umie hives is open, boss. Ghaz is gonna make you a Warlord if you take da 'umie governor's 'ead." Klickinklak ventured. The warboss sighed, bits of teeth falling out as he did.

"I don't care 'bout dat, Klicky. Ghaz can zoggin shove dat "Warlord" nonsense. I want to go back and beat those bugs to deff. Take what ya need from da 'umie wagons and then get rollin'.

Since he conceded, I count as controlling all the objectives. I'm obviously beating him in killpoints, so I've scored a massacre. In addition, I managed three out of the four bonus points.
Though this was not a close game, I don't blame my opponent as much for bad tactics as you might initially think. The mission was HEAVILY tilted against shooting armies and this was compounded by the funky objective game which demanded that you get up close and personal. His biggest mistake, I think, was allowing me to take the choice of table edge and go first. Going first, I was able to get extremely close to his board edge with my initial squads. This allowed me to neutralize his shooting after only one turn of his (admittedly impressive) firepower.
Hope you enjoyed the report. Keep an eye out for number 3, in which I take on an extremely crafty chaos player sporting dual lash and obliterators (eep!).