Hi all,
As promised, here is a recounting of my 'Ard Boyz semi-finals adventures. Before I begin, I'd like to thank Nick and the rest of the staff at 3Geek gaming in Bangor Maine for a well run event. If you're ever up in that area, they're worth a look!
Without further ado, here is my list:

WAAAGGHH Grubbynutz
-Warboss Grubbynutz:
PK, BP, CB, Squig
-Big Mek Klickinklak:
KFF
-10 Lootaz
-10 Lootaz
-5 Meganobz
3 Kombi-skorchaz
-Battlewagon
Big shoota, grabby klaw, plates, red paint, ram
-8 Nobz (count as troops)
3 big choppaz, 1 power klaw, 1 waagh banner, 1 painboy, 2 sluggaz and choppaz
All are cyborks
-Battlewagon
Big shoota, plates, red paint, ram
-30 Sluggaz
Nob with klaw, pole
-30 Sluggaz
Nob with klaw, pole
-30 Sluggaz
Nob with klaw, pole
-30 Shootaz
Nob with klaw, pole
3 big shootaz
-Deffkopta "The Dreaded Black Baron"
Buzzsaw, twin linked rokkitz
-3x Killa Kanz
Rokkitz
-3x Killa Kanz
Rokkitz
My opponent first round ended up being a Tyranid player named Ray. Ray had travelled up from Massachussetts and had even brought along a female companion to help move miniatures. When I got home, I suggested to my wife that maybe she could help me like this in the next tournament. Her response is entirely unsuitable for a family web-site. In any case, Ray(the lucky guy)'s list looked like this:
-Hive Tyrant:
2x twin linked devourers, +1 Save, +1B.S., +1S, Psychic scream
3 Tyrant Guard with 2 lash whips
-Hive Tyrant:
2x twin linked devourers, +1 Save, +1B.S., +1S, Psychic scream
3 Tyrant Guard with 1 lash whip
-Carnifex
Barbed strangler, scything talons
-Carnifex
Barbed strangler, scything talons
-Carnifex
Barbed strangler, scything talons
-24 Termagants
-23 Termagants
-8 Genestealers
Scutters, Feeder Tendrils
-8 Genestealers
Scutters, Feeder Tendrils
-8 Genestealers
Scutters, Feeder Tendrils
-8 Genestealers
Scutters, Feeder Tendrils
-3 Acid sporemines
-3 Acid sporemines
-3 Acid sporemines
-3 Biovores
Firing acid mines
-3 Zoanthropes
Warp Blast, Psychic Scream
-Carnifex
Barbed strangler, twin-linked deathspitter, +1 save, +1 toughness, +1 wound, +1 weaponskill, spinebanks

"Ey Boss! We got bugboyz ahead!" came the crackle of The Black Baron's madness-tinged voice from the crude device mounted on the dashboard of the battlewagon.

"Bugboyz?" Queried Klickinklak, looking worriedly up at Grubbynutz. The baron answered with a whoop and a resounding raspberry.

"Ya, Klicky, dats what I said, you dumb Squig. Dey took one of Umgrut's forts and... yeah... looks like dey definitely gotz Umgrut too! What an 'orrible shame! HAR HAR HAR! I fink I see his choppa floatin' in dat pool fing over dere... We'ze gonna krump 'em, right?"

Grubbynutz grinned wickedly. He had expected a fortified line of 'umies trying block his path to the heart of Yulanos IV's 4th continent. Instead he found barren land stripped of all life. Moving towards the main hives, But this would do very nicely. He wasn't sure where the tyranids had come from or how they had beaten him to attacking the main hive on this continent, but he was going to be a snivelling grot before he let them get away without a fight.

"'Ell yes, we'ze gonna krump 'em!" he roared "Get yer flyboy butt over to da flanks and start sawin' up da fat slow ones. Dat should be fun for you"

"Yes sir! Dat surely will!" came the cheery reply.
Table looked a little bit like this: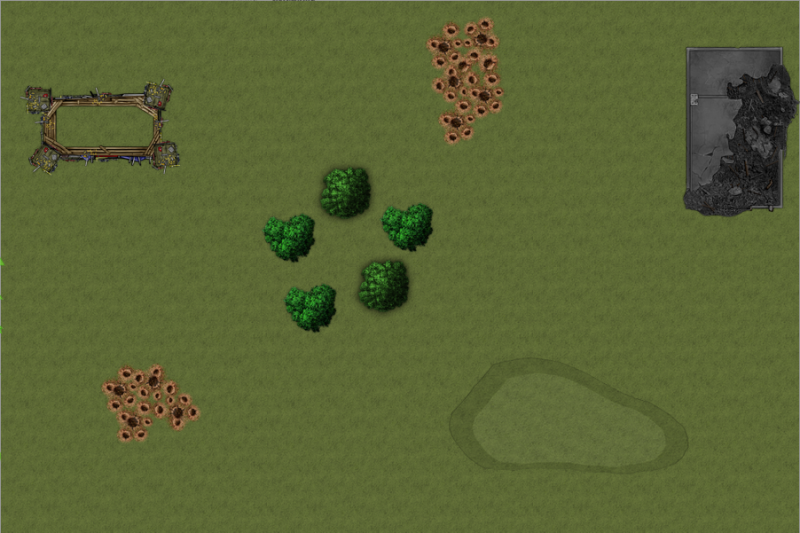 The mission was a modified annihilation mission with troops being worth 3KPs each and HS, FA, and Elites being worth 2 each. Hqs and dedicated transports were worth one. Deployment was pitched battle. He won the roll for deployment and first turn. His genestealers stayed off-board to outflank. The majority of the rest of his forces deployed in a big bunch around the center, save for two of the elite-fexes and the biovores, which deployed off to the flanks. I counter by putting three of my mobz off to the left of my hill, as well as my kanz and my wagons full of nobz. The lootaz themselves occupy a hill. Thinking of the outflaking 'stealers, I position a boy mob to the right of the lootaz by themselves. They will either deter the genestealers or tempt them into the open where my lootaz can dispose of them. The black baron, as usual, outflanks. He's got his eyes on those juicy biovores
I try to seize the initiative and fail

Tyranid Turn 1:
In his first turn he moves his gaunts away and to the sides before moving his Tyrantt/zoey/fex phalankx forward. Shooting sees him blast around a dozen boyz from various boy mobz and kill four lootaz from the leftmost hill squad. The lootaz fail their leadership and run. They stop just short of the board edge.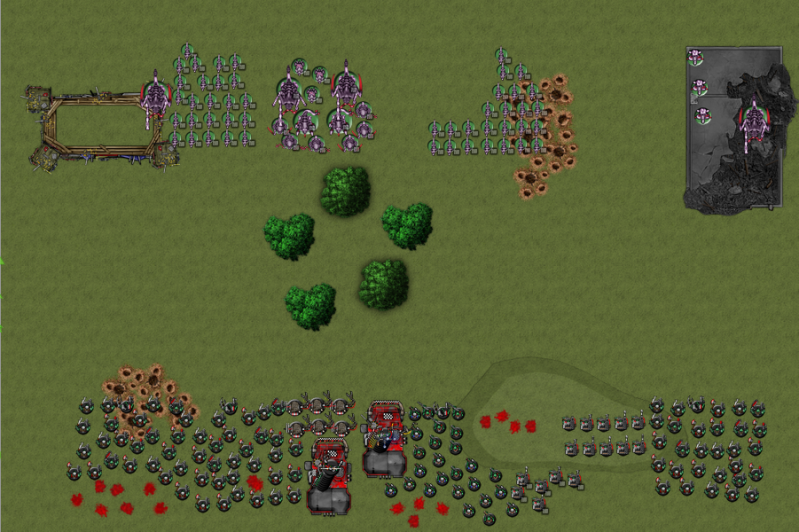 Ork Turn 1:
Lootaz rally, much to my relief.
My entire line surgest forward with every slugga boy mob moving up and running. The kanz also run into the woods. Both battlewagons advance to prepare themselves for a second turn off-load and charge with the nobz. The shoota boyz move up and blast three gaunts to death from the righthand squad. The Lootaz who didn't run target the biovores and blow one away. 4 dead tyranids! Yay!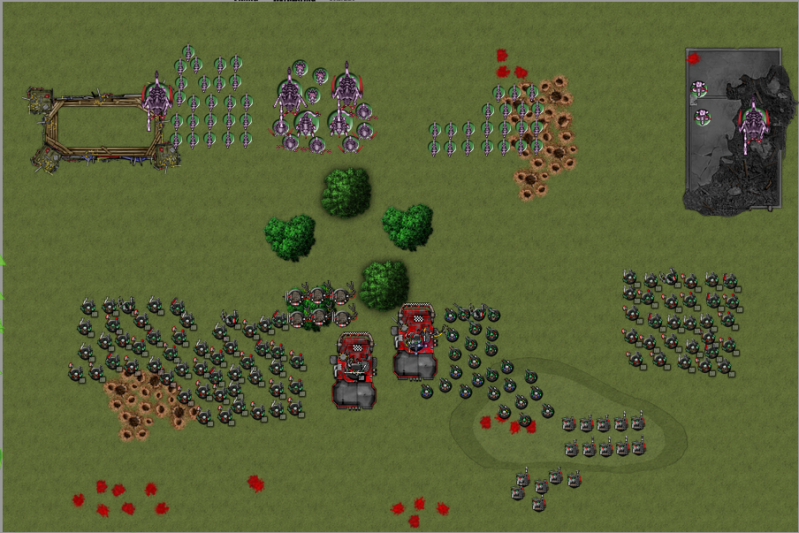 Tyranid Turn 2:
One spore mine group and one genestealer squad comes in. The spore mines bounce harmlessly off my battlewagons (he didn't have very many ways of killing my wagons and was getting a little desperate for some reason) while the stealers show up on the right side of the board. The tyrants and their buddies move up a bit. Both gaunt squads advance to use their fleshborers. Combined fire from the tyrants, 3 carnifexes, the zoanthropes and the lefthand gaunts reduces my lefthand boy squad to green paste. On the right, the gaunts and carnifex level their weapons on the boyz over there, reducing them by aroudn 8-9 models. The genestealers then charge in and kill a lot more. The orks manage to kill 2 genestealers in reply, but it is not enough to prevent them from taking enough fearless wounds to reduce the mob to a few models.
Not good. I've lost one boy mob and most of another before the majority of his reserves have even shown up. Maybe my nob charge can make a dent...

Ork Turn 2:
The black baron arrives right behind the biovore unit. He rockets into the building, landing next to the biovores on the top level (and not taking a dangerous terrain wound).
Both battlewagons rocket up through the trees, managing not to immobilize themselves and disgorging the nobz. On the left my remaining slugga boy squad there moves up towards the guants there, while the shootaz leg it towards the gaunts on the other side of the table. A waagh helps all units make it into close combat range. Killa kanz, since they will be unable to join combat this turn, open on the carnifex in the orky fort, blasting three of its wounds off in a hail of super-accurate grot marksmanship. The loota mobz do a similar feat on the righthand fex, blasting two of it.
In the assault phase my slugga boyz pound the gaunts down to 3 models while losing only a few themselves and the shoota boyz completely annhilate the gaunts they've charged. Things go less well in the center combats. My meganobz are completely unable to charge their tyrant squad thanks to the potent combination of the "The Horror" and Psychic scream from no less than 5 different sources. They sit there flapping in the breeze waiting to get shot. By some miracle Grubbynutz and his ladz manage to charge the other tyrant. They dispatch two of the tyrant guard, but have a hard time doing anything else thanks to the dual lash-whips taking away 2 attacks from them.
At this point, I think I fail my own "The Horror" check and realize how screwed I am. Still, the Baron cuts down the second biovore for one wound in return. The final biovore passes its leadership test.
Predictably, my boyz in combat with genestealers are cut down before they even get a chance to strike. The victorious stealers consolidate towards my large loota squad. Gah. So much for turning this game around.
Kill Point Total after Turn 2:
Orks 3 (Gaunt Squad), Tyranids 6 (2 slugga boy squads)

Tyranid Turn 3:
Another genestealer squad arrives this turn, this time coming on behind my only remaining slugga squad on the right. Uh oh. Nothing else shows.
Carnifex moves up and assaults the baron, hoping to put an end to him. Turns out he needn't have worried, as the biovore kills the black baron in close combat. I guess they DO make those things out of Ork DNA. The meganobz become the focus of a serious amount of firepower from the nids, however some bad rolling for warp blast on the zoeys means that they come out of without having to take a leadership test (which is key, given the -5 modifier they are at from that damn psychic scream). The hive tyrants isn't fool enough to charge them either, so they last another turn.
Genestealers on the left whale on my boy squad, killing them down to the nob and just a few boyz after fearless wounds. The sluggaz manage to kill off the last of the gaunts however, meaning that they've earned their points back. On the right, the other genestealers charge my lootaz, massacring them for the loss of two of their own (he assaulted through cover without the benefit of feeder tendrils – go lootaz!).
The heavy support carnifex charges the shoota boyz, reasoning that he can hold them up until something else can be diverted to kill them. He kills a few orks but takes a wound in return. Meanwhile, the other central carnifex joins combat against Grubbynutz and pals. Together, the hive tyrant, his guard and the carnfex beat me by 1. Unfortunately, this is more than enough as I'm testing off of a leadership 4 (thanks to psychic scream). Unable to roll the requisite 3, Grubbynutz and his ladz run and are mercilessly cut down.
Ouch. That was what I was afraid of. In just this turn he has scored 8 killpoints, giving him a grand total of 14 to my 6. He's also on the verge of getting another 3.

Ork Turn 3:
My battlewagons roar away, out of assault range of those nasty monstrous creatures. Lootaz blast the genestealers that had just killed their compatriots, annhilating the squiddy aliens. One unit of killa kanz charges the hive tyrant hoping to avenge grubbynutz, but they fail rather spectacularly. Fortunately, the hive tyrant only blows one of them up.
The other kan squadron tries to take the last wound off of the carnifex, but fail to do so. So much for grot-marksmanship.
I send my megnaobz AROUND the hive tyrant this time and catch a zoanthrope, killing it. Yay! Only -4 on my leadership tests now. Slow and purposeful kept me from getting what would have been a 6-kill point triple charge. Damn.
Genestealers annhilate my boyz on the left before the green guys can strike, earning him another three.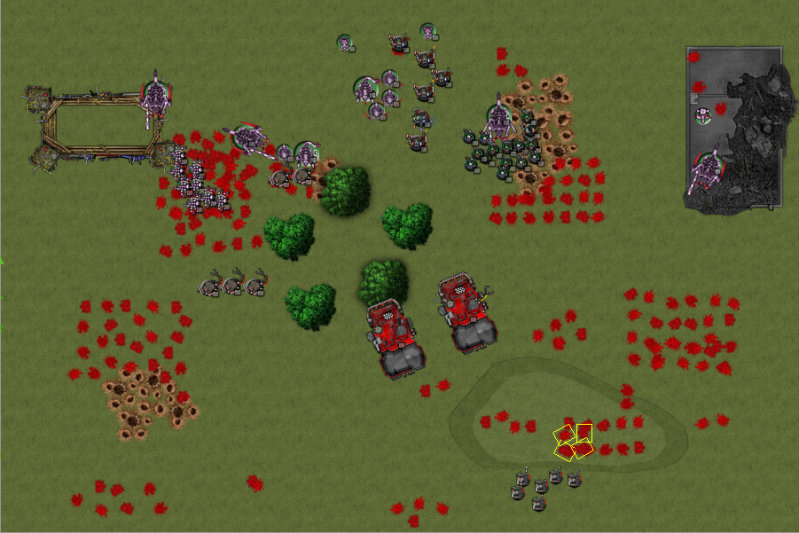 Kill point total after three: Orks 11 (Zoanthrope, genestealers, 2x gaunt squads) Tyranids: 17
At this point we are informed that this will be our last turn.

'Nid 4:
Ray gets the rest of his reserves. The 6 spore mines rain down on the ongoing combat between the carnifex and the shoota boyz, killing a few while the two other genestealers squads arrive on opposite sides of the table. One shows up behind the Biovore building, while the other tries to make a bee-line for my kanz. His right flank fex and the biovore combine to kill my remaining lootaz in shooting. The other carnifex and the hive tyrant succesfully cause one wound on my meganobz, pinning them. Damn. He charges one of his elite carnifexes against my kanz and the kanz are annhilated by the combined monstrous creature attacks.
The genestealers that had just finished mopping up my sluggaz move up to engage my other kan squad. They do some glancing and penetrating hits, killing one kan. In reply the kanz snip apart a couple stealers. The struggle continues against his super fex. After combat the fex is down to 2 wounds and I've got a lot of boyz left.
klkn
. He got 4 more killpoints this turn. Whats more, he completely hamstrung my ability to gain any of my own by pinning my MANZ. Psychic scream is proving to be a game-breaker for me.

Ork 4:
With not a whole lot else to do, my battlewagons take some desperation shots with their big shootaz against the carnifex with one wound on the tower. The fail. The kanz manage to survive somehow. I think I had one kan left with no arms. I now just hope my shoota boy nob can take the carnifex's last wounds with his attacks. Alas, he only does one.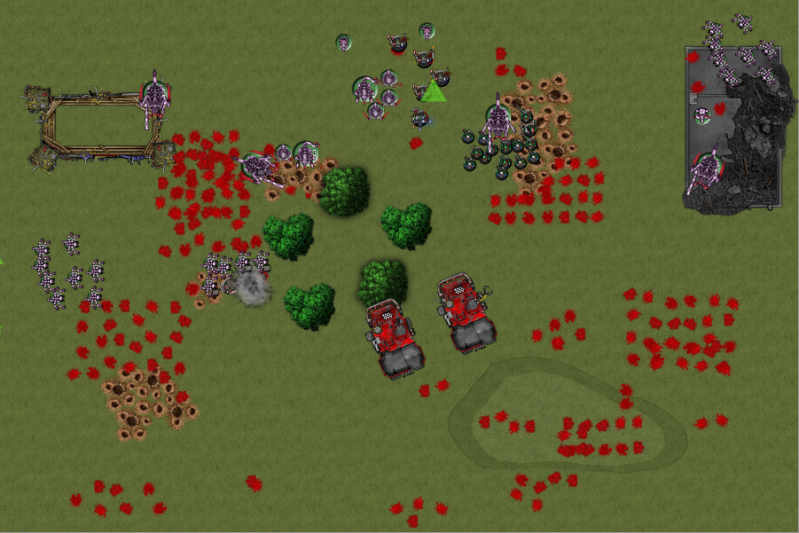 Final Score:
Tyranids: 21 (Warboss [1], 3 Slugga Boy Mobz [9], Nob Squad [3], 2 Loota Mobz [4], Kan Mob [2], Deffkopta [2])
Orks: 11 [2 Gaunt Squads [6], Genestealer Squad [3], Zoanthrope
A ten point kill point differential is the threshold for a massacre in this game, so I am massacred with 0 points. My opponent got a couple bonus points plus the twenty for the massacre. Damn, if I had just been able to cause a wound or two more on some of those fexes, I could have escaped with a major loss or perhaps even a minor one.
My primary mistake was committing my nobz to the assault of his central phalanx, not thinking about the effects of psychic scream in combination with "The Horror". My entire plan revolved around my two nob units tearing the heart out of the tyranid army. When this failed to happen, I had nothing left to fall back on. All credit to my opponent for a well played game and a well-constructed 'nid list.
Grubbynutz groaned and sat up. He was in his battlewagon, bouncing away. The back of his head felt funny. He started to reach back to feel it when a restraining hand was laid on his arm. Looking up, Grubbynutz saw the grinning face of Hultholk, one of his Meganobz.

"Ey now boss, can't have you damagin' da good work dat Klicky did. He had to put a big plate in yer head. We just barely got yoo outta dere After you ran from dem big bug boyz, dey crushed you and mashed you and you got real... URK!"

The one weakpoint in mega-armor was the face-slot. That was where Grubbynutz's hand had entered and was currently squeezing Hultholks throat.

"Now, I like yoo Hultholk," Growled the warboss, "but I fink yoo got yer eyes messed up by dem weirdboy bugz. You FINK you saw me running away and getting krumped but dat was just a trick by da bugz to confuse you, RIGHT?"

Hultholk gurgled something to the affirmative. Grubbynutz released him and rose, struggling to keep his feet on the bouncing wagon. He stomped his foot down and put another dent in the deck plate. He glowered back at the direction they were escaping from."

"Just yoo wait, bug boyz. I'm getting some more boyz and then I'm comin' back. Then all da psychic tricks in da world won't save yoo!"

Stayed tuned for the next battle report. ;D