500 point 3 way Central Objective Game 21/4/09
Eldar VS Marines VS Imperial Guard
Eldar List
Doomseer-80
3 Bikes w/ 1 Shuriken Cannon-76
3 Bikes w/ 1 Shuriken Cannon-76
10 Guardians w/ Eldar Missile Launcher, Warlock (Conceal)-140
10 Guardians w/ Eldar Missile Launcher, Warlock (Conceal)-140
Total: 512
Marine List
Captain w/ Storm Bolter, Power Weapon, Terminator Armor-140
5 Marines, sergeant w/Power Weapon-90
7 Marines, sergeant w/Power Weapon-137
Dreadnaught w/ TL Lascannon, Storm Bolter-135
Total: 502
Imperial Guard List
Junior Officer, Command Squad w/ Lascannon-121
Special Weapons Squad (6 Guardsmen, 2 w/ Snipers)
Junior Officer, Command Squad w/ Heavy Bolter-221
1st Squad 10 Guardsmen w/Lascannon
2nd Squad 10 Guardsmen w/ Lascannon
Armored Fist Squad (10 Troopers w/ Heavy Bolter, Chimera)-155
Total: 497
Objective: This was a 3 way game fought Between Imperial Guard, Space Marines and Eldar. The mission was to capture the central point of the board, on top of a large flat hill.
Deployment: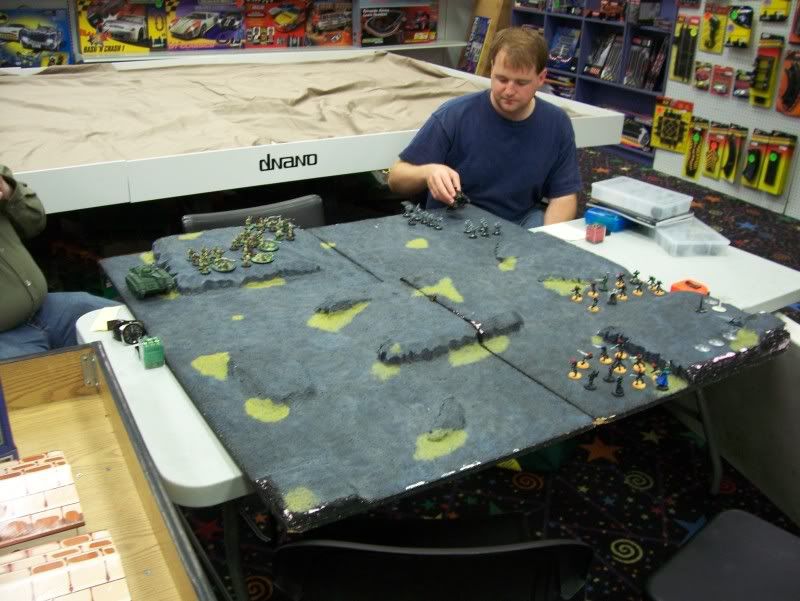 The only difference being that the Dreadnaught was in the end placed between the squad of 7 Marines and the 5 plus Captain. For once I was lucky and I got to go first, and so off we went into this tale of destruction.
Turn 1
Starting with my Eldar I thought out my first moves. I honestly didn't think too much about my movement with the Guardians, the 48" missile launcher platform was pretty much fine where it was, but I just felt like moving my guardians up to see if I could get any extra shots off. The Jetbikes I moved up towards the central hill and right in front of my Guardians, but not blocking the heavy weapon platform. From here I started some rather successful shooting. I started with my Farseer's Guardian squad, and out of that managed a hit and a penetrating result. Unfortunately, that was my first "1" of the game, so in essence I did nothing to the Chimera. The marines didn't fare quite so well though. I began with my Plasma round from the missile platform, and managed to squeeze five marines into my sights, get 2 wounds, and no failed saves. However just after that I took a pot shot with the Shuriken Cannon on my first squad of jetbikes, single hit, single wound, and single failed save. Repeat with my other squad of jetbikes, and you've got a morale check. Unfortunately for the marine player, his new dice rolled high, and the 11 means they failed pretty badly. Once again when rolling his dice went high, and the marines ran straight off the table! Pleased with my first turn of playing with jetbikers, I assault-moved them closer to cover (one behind the central hill, one behind the Guardians).
Next up was our Imperial Guard player. He started by moving back his Chimera, and ended his movement there. Next up was quite a bit of shooting. He started by attempting a little bit of revenge on my Guardians for shaking up the Chimera, but the Heavy Bolter wasn't really scary, in fact the one dead Guardian didn't even see it coming, and didn't even notice his head exploded. Done with things that could start shooting at me, he started up some heat on the Marines. Unfortunately for the Guard though, their mighty guns failed to do jack-all against the armor of the marines, leaving them unscathed in the open.
Finally went the Marines. The abandonment of about half of the model count of the army was a little bit of a kick in the nuts for morale, but he kept on playing like a trooper. Seeing a front against both Guard and myself as the only thing to do, he decided to march up and rapid fire bolters at the special weapon squad, getting rid of them for good. To finish up the phase, and his turn, the Dread fires at the HQ squad killing one Guardsman.
That ended the first turn, I was almost completely unscathed and had done a lot against the marines. However the Guard were also alive and well, so I began to see how this game was going to end up going. I needed to get rid of the Chimera, as the Armored First unit inside of it was going to become at least a little bit of a nuisance later on, looking like a bit of a late game objective grabber. With that and the uncanny amount of heavy weapons perched on the next hill up, I decided that a full on attack against the Guard, ignoring the Marines for now.
Top of Turn Two/End of Turn 1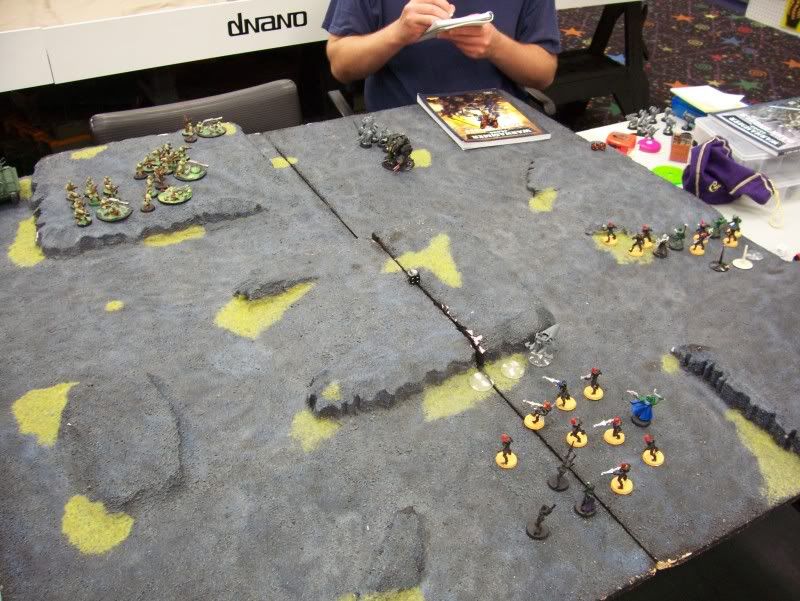 Turn 2
My turn again, so I began with a bit of offensive action. Both of the Jetbike squads popped up onto the central hill, and with the Guardians I just took a bit of a jump up onto the little half-hill near the marines. From here I began my little bombardment of the nicknamed "gun emplacements". I started first with the plasma missiles, and although I kept aiming at the larger squads with lascannons, I managed to scatter onto the Heavy Bolter team. Luckily for me though, I managed to kill several in the Platoon Command Squad (Heavy Bolter) and get them to run. Also managed to get a single guardsman in both of the larger squads, to make up for that single loss of Eldar life. Also adding to this destruction are the aforementioned jetbikes, managing to kill all but the officer, who staunchly stands and gets ready to start fighting,
Now the Guard start up to see what they can do. The Chimera storms forward getting ready to jump up to that objective. The Lascannon Squads start firing away, and manage to knock out a jetbike and a single marine. I pass my morale test and all is good. Past that, the Guard have nothing else to do.
Now the Marines are beginning to dwindle in number even more so than they should be in fluff, and despite that they run up to the first Lascannon squad they can see and lay some smackdown on them. Rapid firing bolters, the Captain's Storm Bolter and the Dread, 7 Guardsmen fall and they run away with their Lascannon, leaving only 2 scoring squads left, the Armored Fists and the other Lascannon squad.
Top of Turn Three/End of Turn 2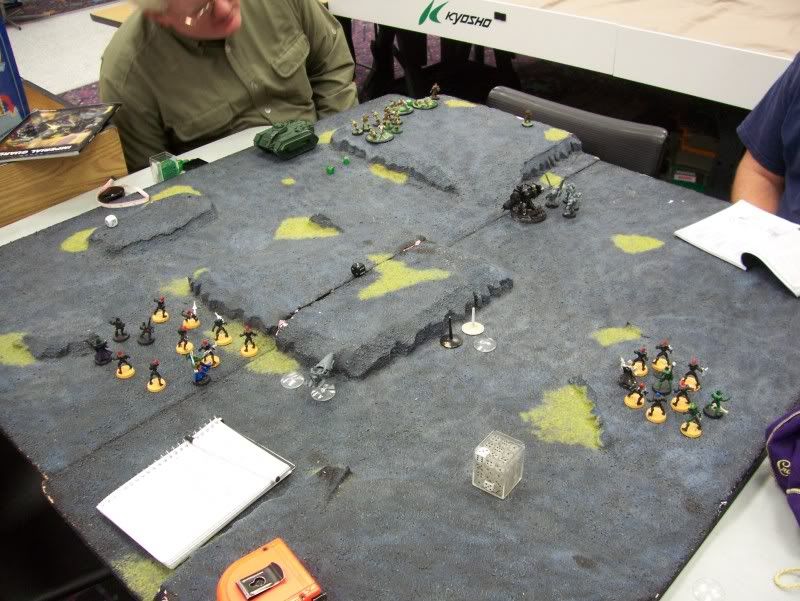 Turn 3
I managed to do just about jack-all. My Guardians on the leftmost flank moved up a bit to fire at the Chimera, and through some luck of my own managed to score a bit fat zero. I did just about the same thing on the other flank with my guardians, and the Jetbikes may as well have been throwing rocks at the baddies. Needless to say, with the absolute ineffectiveness of this round of shooting, it was a "brace for impact" moment.
The Chimera ran up to my guardians who were left out in the open, and out popped the armored fists. The Fearless Officer ran up closer to his remaining men, the whole morale boost (at least out of game) would make the whole idea of dieing together a bit more bearable at least. The dropped off armored fists took aim and fired at the Guardian squad, unfortunately making a good 4 kills. Luckily I kept up and passed that morale check, leaving a few nasty tempered Eldar right in front of them. The remaining Lascannon squad manages to fire and knock off the Lascannon.
The Marines now saw that trying to keep on fighting the Guard was just going to lose him the game, so a bit of a move against me came out. The Dreadnaught comes towards my guardians (killing 2 with a Stormbolter) and his captain plus 2 marines left making a break for the objective.
Top of Turn 4/End of Turn 3
Turn 4
My Guardians and jet bikes run up (the Farseer jumps out of the squad) and unleashes hell on the Armored Fist squad, killing 6 and making them run away. On the other side, I fire and miss with my missile platform at the dreadnaught, so instead I charge. This immobilizes the Dreadnaught, although it does knock down two guardians, and makes me run away (for once). My Farseer charges the Chimera, only hits once (darn 6's to hit), but I do manage to get a weapon destroyed result, busting the multi-laser.
The Chimera turns around and starts pelting the Guardians in front of it, managing to kill two of them. Once again, a successful leadership test on my part and I sit there. The Lascannon fires and kills another marine.
The Marines start off by moving closer to the central hill, hoping to manage a last minute objective grab. The dreadnaught sits where it was immobilized, and the Storm Bolter mows down another 2 Guardians, making the squad unable to rally. That made me sad, but it wasn't game threatening.
Top of Turn 5/End of Turn 4
The Farseer leads a heroic assault on that Chimera, and through a mix of 6 auto-hitting Witch Blades and some various small arms fire, it blows up, taking a guardian with it. In the middle my bikes jump up towards the objective, giving me a couple of inches from the objective at the very end, just in case. Various firing from those Jetbikes accomplishes nothing, so here I am thinking the marines are really going to hurt.
The Imperial Guard really have nothing to do but shoot at the Farseer's squad, but even they manage to fail doing anything to my Guardians.
This is the last phase of the last turn, and so start the Marines. Rolls difficult terrain and it comes up snake eyes, leaving the objective safely in my hands. Although a successful run move brings the Captain and his two bodyguards up to 5" away from the objective, I don't feel at all threatened. Some storm bolter shots aimed in my direction end up creaming a bike in my 3 man squad, but they pass the morale check and so I have 2 scoring units on the objective.
End Game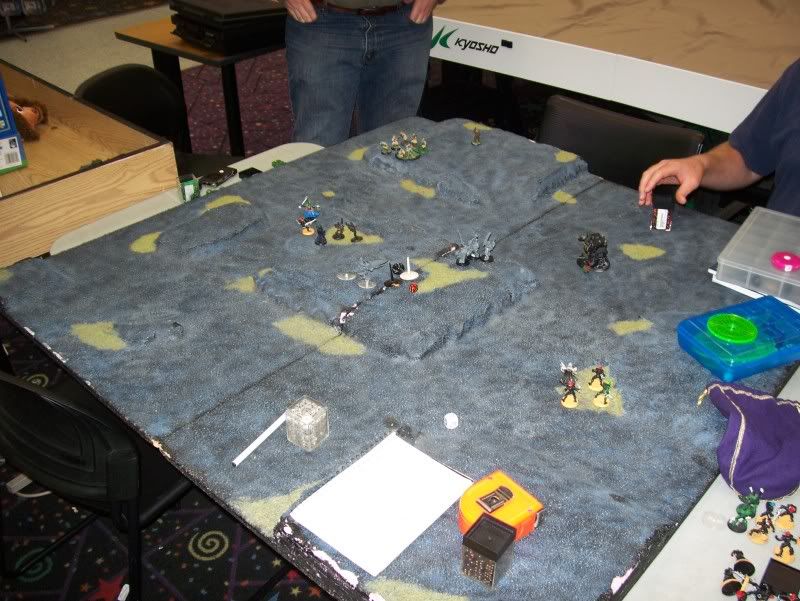 Eldar Win!
Thoughts on this game. First of all in the far beginning I do apologize to my opponents for the 10 points over I was. When I was making my list I guess I mistook the point costs for Conceal and Embolden, and when I double checked my list I added it in. I'll do my best to try not to let it happen again. Now, as for game play and strategy I'm going to say that I started off getting incredibly lucky, and in the end that brought me down quite a bit because I didn't capitalize on that luck. If I had pushed a bit harder on the marines I definitely could have gotten rid of that Dreadnaught before anything really bad happened to my Guardian squad, and instead of running they may have just ended up getting beat up but killed the rest of the Emperor's Finest. All in all though I wish I had pushed a bit harder on the Imperial Guard when the game started, it seems like I just sort of let them off. A problem with that may have been the list I was using, so I think I'm going to have to fine tune that and make it a bit more suitable to how I want to play (meaning I'll want to get 1 more jetbike model and we'll see some Avengers).
So yeah, all in all that was a game well played, even if reasonably easy to read the flow. Hope I can keep up some good games with my opponents as we go into a larger point level and I hope my list building can create something more likely to satisfy me all in all.
Fluff and other stats will come later on when I've calculated and written it all.