I wanted to get this out there as some of the things from the latest Doctor Who seem in a similar vein... annoyingly, this isn't the first time that I've had an idea that's also showed up in Doctor Who. So I wanted to put this teaser out there so you Doctor Who watchers realise that I'm not just ripping it off =P
[hr]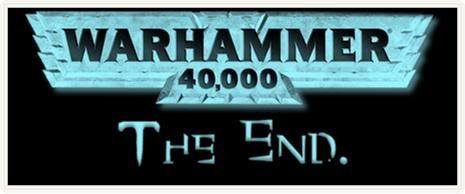 [hr]
Inspired by 5th Ed's Time of Ending and the Warhammer 80,000 thread.
Featuring all canon races.
Featuring an all-new Chaos God.
Complete fluff and Necromunda-inspired ruleset.
You will either love it or hate it.
[hr]
[i]When the stars have gone out, darkness will truly descend...
The End is coming.
Where will you be?
[hr]
+++Closing Statement, Report Omega: A Realistic Assessment of the Threat Posed by the Tyranids+++
+++For all the pessimism regarding the horror of these unholy aliens (cf. "Simply put, over the coming centuries we may be out-evolved to the point of extinction", the noble Magos Biologis Alder Garrick), there is perhaps one glimmer of satisfaction that we may gain from the inevitable fate of these creatures.
The Hive Fleets drift through the galaxies, feasting on the biomass of the planets they encounter. Indeed, we have no way of knowing how many other Hive Fleets there may be beyond the Void, nor how many galaxies they may have devoured before reaching our own. But given that the biomass of the universe must be finite, eventually there will be no more to sustain their immortal hunger; then they shall die out, last but not alone. And in this state of oblivion all will be returned to the nothing from whence it came.
I do not presume to know about you, My Lord, but I take great solace from this knowledge.+++
[i]-Magos Biologis Gant Bellerophon
[hr]
"They will seek to harvest us at first, for they will be hungry after their long sleep. Then they will turn their efforts to enslaving the survivors. The galaxy will bleed the stench of death into the void, and it will attract the others of their kind. We must choose unity or death."
-Maechu, Farseer of Ulthwé
[hr]
I don't know what year it is. I don't think anybody does, beyond guesswork. It doesn't really matter.
...
I look out in the sky of this particular world and I can count seven stars. They used to be innumerable! I know that the planets still exist, some habitable still, some not, but the lack of the suns chills my very being.
...
I feel some discomfort as regard my Tau-designed weaponry. I understand, and it has been generations since there were open hostilities between our races, but I think it's in my bone. However, I cannot argue with its effectiveness.
...
All we do is hang on. I can't help but wonder how long it will be until we fall off.
-Excerpted from the personal log of Jerrok Thornton, Human
[hr]
"Over the many millennia of our distinguished race's existence, our scholars have debated the exact "true" interpretation of the "Greater Good." In this age I think there can be only one possible interpretation. And that is of unity, that life is preserved."
-Aun T'el'o'don after the Tau Empire lost its first star.
[hr]
All life bears death from birth. Life fears death, but lives only to die. It starts with anxiety. Anxiety becomes fear. The only cure for this fear is total destruction. All things live to perish. At last, life has uncovered this truth. I exist for one purpose... To return everything back to the zero world, where there is no life. In a world of nothing, fear does not exist. This is the world that all life desires.
-Nihilus
[hr]
Time not important. Only life...
-Unknown